A retreat for any purpose.
At My Retreat, all of our garden rooms are bespoke and are as individual as you are. So, whether you want your garden room for an office, studio, games room, a gym, or an escape, there is a garden room that is right for you.
We do not compromise on quality or finish and that is why all of our buildings come with a choice of finish, electrical connection to you house, A+ rated Celotex insulation, the highest quality timbers, plaster finish, recessed chrome spotlights and double sockets as standard. We offer a free site surveys and design consultation over the phone or at our showroom office at Clifton Garden Centre in Addlestone, Surrey. We are small independent business who are dedicated to great buildings and customer care, working with a network of other like-minded, local businesses to give you both the personal touch and the expertise that you don't get with the bigger companies.
Our business is run by people who genuinely care and are excited by what they do, offering a personal touch and our aim is to deliver the highest level of customer service, that will result in an enjoyable experience and product that is the perfect fit for you, that is why My Retreat is rated 5* on Google reviews.
We believe in clear pricing, that is why all our costs include VAT, delivery, foundations and installation, that way there are no surprises and you can look forward to enjoying your retreat.
Click on one of the styles below, where you'll find a price guide to help you decide on your perfect garden room retreat.
We have been super-impressed by My Garden Retreat. From the speed and quality of the build, to the friendliness of the entire team, they were great. It was actually a pleasure to have them working in our garden – and it is not often you say that! A big shout-out too, to the groundworks company they recommended to us – Modern Landscapes.
Jeremy Forshew
2021-11-22
Matt, Kieron and the whole My Retreats team were brilliant from start to finish. They were professional (they really do know what they're doing), friendly (they always had time for me and my young family), flexible (even when I threw in some very late design changes) and considerate (I really didn't expect the ground works team to jet wash my patio and drive at the end of every day - fantastic!). I had a very specific set of requirements and spoke to quite a few companies before deciding to go with My Retreats. I chose them because I immediately felt like they really listened and understood exactly what I wanted... and I was right. The process was so easy from start to finish, and we couldn't be more pleased with our new garden gym! I'd happily recommend them to anyone looking for a garden room of some kind.
Adam Whittaker
2021-10-28
Kieron, Matt and all the guys and girls at My Retreat were an absolute pleasure to have with us whilst they built our beautiful studio. Everything went exactly according to plan, budget and timings without a single hiccup (that we noticed anyway!!). Absolutely delighted with the finished product and we would have zero hesitation in recommending them.
I am so pleased with our new garden studio, it fits perfectly at the end of the garden. The build was seamless and the workman worked incredibly hard to meet the deadline I'd given them, which they did with flying colours. The finish is excellent both outside and inside. I wouldn't hesitate in recommending My Retreat garden Rooms.
Matt, Kieron, Steve and the whole team were amazing from start to finish with our garden retreat. The care and attention to detail is second to none and we're delighted with the end result. It fits perfectly into our space as it was bespoke built, blends in beautifully with the rest of our garden and the finish is really high quality both inside and out. The whole process from start to finish was quick efficient and really smooth and we really enjoyed having the guys in our garden while they were creating our perfect space. Thanks to everyone and we can't recommend them enough!
Wow….. what can I say?! The garden office is fabulous! From Keiron; Matt & Steve and the rest of the team we have only experienced professionalism and communication throughout the build. Highly recommend . Five star service all the way. We can't thank you all enough !
Kieron, Matt, and the team were fantastic from start to finish. They transformed an awkward shaped dead space in my garden to a superb hidden office room. Nothing was too much hassle. The awkward shape and size of the plot to work on did not hinder them from delivering exactly what i had requested. Very happy with the investment and result. Would definitely recommend.
Elizabeth Deane
2021-06-08
Matt and the team were fantastic! Everyone the brought onsite were polite, highly skilled, helpful and accommodating. At every stage of the build we were given progress updates, everything ran to time and they were easy and lovely to work with! The final product was exactly as expected, a beautiful finish! We are very pleased! Thanks team My retreat Garden Rooms!
Martin Chidwick
2021-06-06
Fantastic garden room and fantastic service from the team. Thoroughly recommend to anyone looking for a team to build a garden room / office. All done in 2 weeks in spite of less than ideal weather conditions! Very happy.
So happy with our beautiful garden room - we've transformed a run down, useless corner of our garden into a fabulous gym/kids hangout/garden bar. From the first time we met the guys from My Retreat they were focussed on making sure we ended up with the best result possible. Their options, prices, finish and timelines were the best we found out of 4 quotes, and Kieron, Matt and Steve have definitely made sure everything is to our liking. Even if Steve did grumble at the charred larch 😂
Our Garden Rooms
The contemporary design with a stylish canopy and spotlights, makes the Clifton the most popular style and comes in a variety of sizes. It will make an excellent focal point…
Contemporary and striking, the Westbury has large sliding or bifold doors and wonderful full-height windows that flood the building with natural light.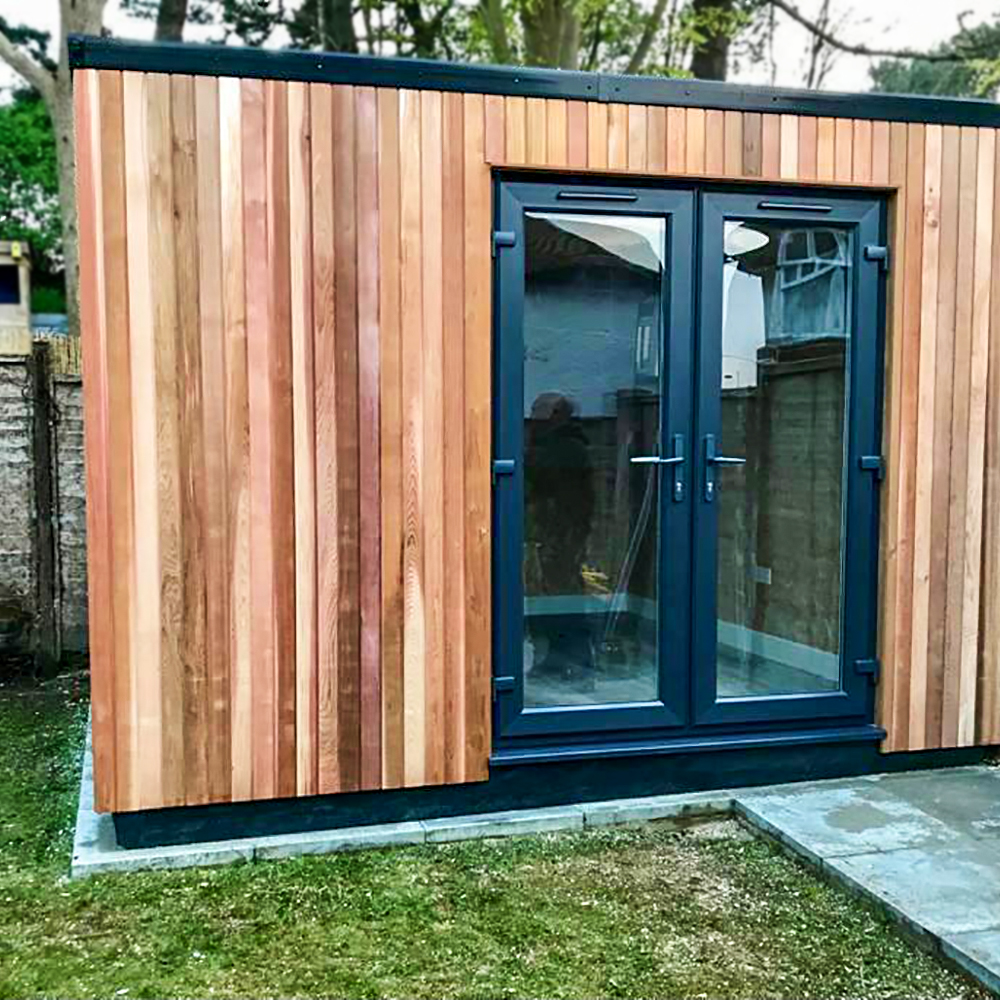 With a compact and modern design, the Ashton is year-round space, perfect as a home office, music studio, gymnasium, workshop or art studio that will look good in the smallest…
Garden Room Pictures
Latest garden room pictures
Why My Retreat Garden Rooms
We believe your home is more than four walls
Gardens aren't just outside space, they are part of your home. They deserve the same quality, care and attention as the rooms inside, creating amazing spaces in the fresh air.
Many garden building suppliers are only interested in building a building. We believe your garden is much more important than that, and how you choose to use it as a part of your home deserves all the respect and attention you would give to the rest of your home. We believe in thinking outside the box in order to provide an enjoyable experience and product that is the perfect fit for you.
Whether you want your garden to be for escape, celebration, parties play or relaxation, there is a solution that is right for you. Your home doesn't stop at your back door, your garden room is very much a part of it.
Latest posts
The latest posts from our garden room blog