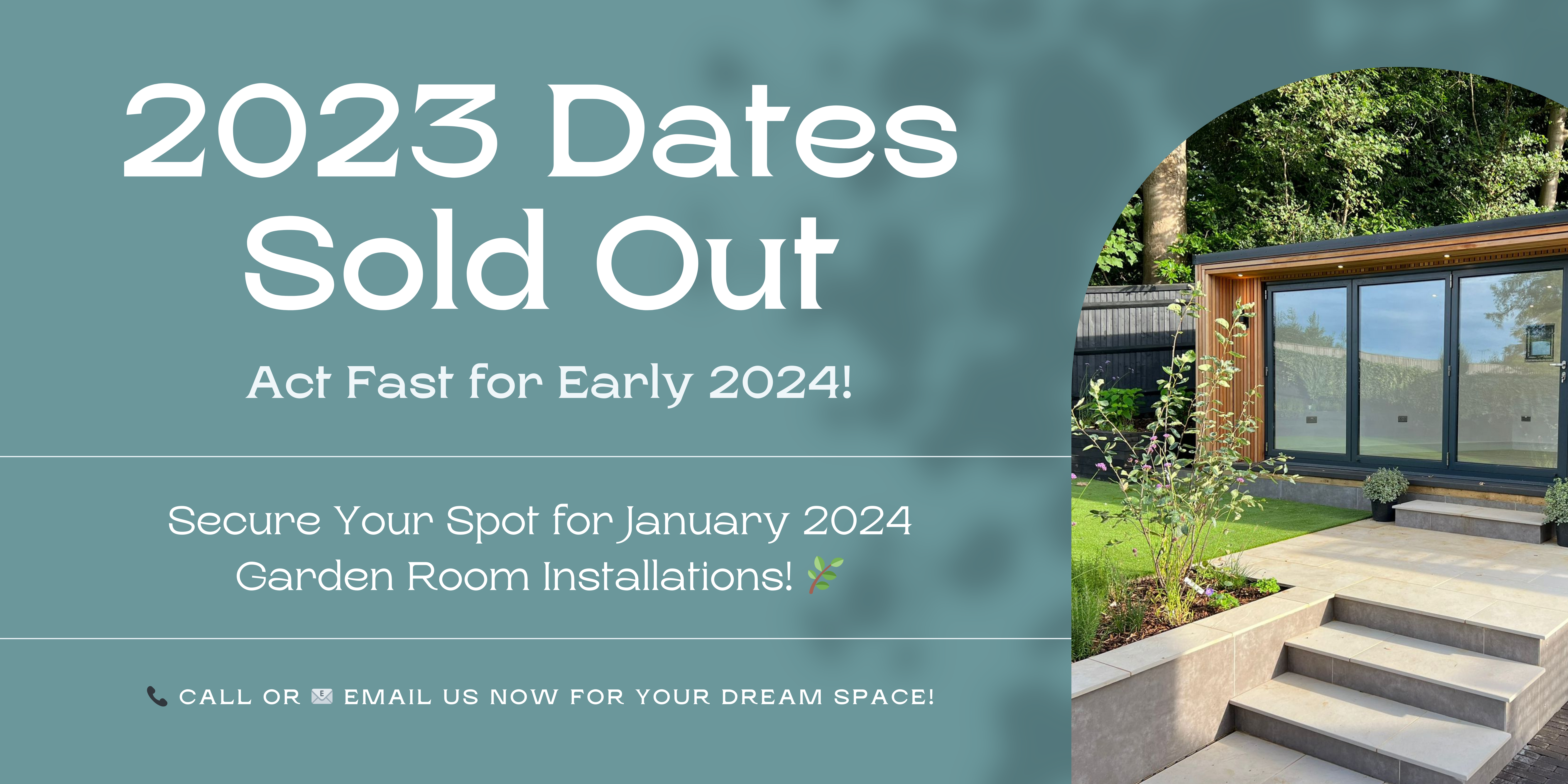 About Us
At My Retreat, all our garden rooms are bespoke and are as individual as you are. So, whether you want your garden room for an office, studio, games room, gym, teenage hangout, there is a garden room that is right for you.
We do not compromise on quality or finish and that is why all of our buildings come with a choice of finish, electrical connection to your house, A+ rated Celotex insulation, the highest quality timbers, plaster finish, recessed spotlights, heating and electrics as standard. We offer free site surveys and design consultations over the phone or at our showroom office at Clifton Garden Centre in Addlestone, Surrey. We are an independent business who are dedicated to great buildings and customer care, working with a network of other like-minded, local businesses to give you both the personal touch and the expertise that you don't get with the bigger companies. That is why we are rated 5 out of 5 starts on Google.
We believe in clear pricing, which is why all our costs include VAT, delivery, foundations and installation, that way there are no surprises, and you can look forward to enjoying your retreat.
Kieron and his team have been excellent ever since I got in touch with them. After a fire we needed repairs to our garden room and fencing and the communication, standard of work and time taken has been of the highest standard. I would thoroughly recommend using them.
The Ultimate Hangout Spot at the bottom of our Garden! My Retreat Garden Rooms has built an absolute gem in our backyard - it's like a slice of paradise right at home! Kieron and his amazing crew were an absolute joy to work with. We threw them some curveballs, but they took it all in stride and made our dreams a reality. Our garden room has truly become the heart of our home. We practically live in it! It's our go-to spot for everything - from early morning workouts to hustling during the day, to cozy movie nights and epic parties! Our teenagers are obsessed with it too; it's their go-to spot for everything under the sun. The attention to detail is incredible - this isn't just a room; it's a masterpiece. We can't speak highly enough of My Retreat Garden Rooms. Kieron and the gang, you rock! Thanks a million for creating a space that has added so much joy and functionality to our lives. Highly, highly recommend!
Huge thank you to the My retreat Garden Rooms team for a speedy, timely, professional, top quality and customised garden room. Best in the business following our comprehensive research and now first hand experience, all of our friends and family have requested their details after seeing our build, so book while they're still available! Thanks again
Debbie Hardiman
2023-01-12
Working with Matt and his team, from start to finish was a great experience, with exceptional service, commitment and workmanship. Matt is superb at his job, takes on board everything discussed and more! With his invaluable knowledge, experience and management skills we have the most fantastic, high quality and enviable garden room.
Really please with the look and finish of our Garden Room. Kieron, Matt and the team are very customer focused taking into consideration our design wishes to make sure we got the end result we wanted.
We were really impressed by Kieron, Matt and all of the My Retreat team working on the project. Customer service and communication was excellent from start to finish and they were reliable, efficient and professional. Very pleased with our garden room and would happily recommend the company to anyone.
We searched thoroughly for the right company to build our garden room and thank goodness we found My Retreat. Matt, Kieron and their lovely team are extremely professional and a pleasure to work with. We have an awkward shaped garden and they were the only company to design something bespoke to work perfectly in the space. We are so delighted with the finished design. They take customer care very seriously and did everything as agreed from the get go with no issues whatsoever. We would gladly recommend them with no hesitation. Thank you to all the team. Tara, Steve & Family
We have been super-impressed by My Garden Retreat. From the speed and quality of the build, to the friendliness of the entire team, they were great. It was actually a pleasure to have them working in our garden – and it is not often you say that! A big shout-out too, to the groundworks company they recommended to us – Modern Landscapes.
Jeremy Forshew
2021-11-22
Matt, Kieron and the whole My Retreats team were brilliant from start to finish. They were professional (they really do know what they're doing), friendly (they always had time for me and my young family), flexible (even when I threw in some very late design changes) and considerate (I really didn't expect the ground works team to jet wash my patio and drive at the end of every day - fantastic!). I had a very specific set of requirements and spoke to quite a few companies before deciding to go with My Retreats. I chose them because I immediately felt like they really listened and understood exactly what I wanted... and I was right. The process was so easy from start to finish, and we couldn't be more pleased with our new garden gym! I'd happily recommend them to anyone looking for a garden room of some kind.
Adam Whittaker
2021-10-28
Kieron, Matt and all the guys and girls at My Retreat were an absolute pleasure to have with us whilst they built our beautiful studio. Everything went exactly according to plan, budget and timings without a single hiccup (that we noticed anyway!!). Absolutely delighted with the finished product and we would have zero hesitation in recommending them.
Why choose My Retreat?
Welcome to My Retreat Garden Rooms: Your Garden Room Experts
With a wealth of expertise spanning over 25 years, we are your trusted partners in crafting and installing exquisite garden rooms. At My Retreat Garden Rooms, we take immense pride in our unwavering commitment to craftsmanship, top-notch customer service, and the use of premium materials. This dedication is the cornerstone of our offering, and it's why our garden rooms are backed by an impressive 5 or 10-year guarantee.
Our legacy is built upon creating some of the most stunning tailor-made garden rooms in Surrey, an accomplishment that shines through in our stellar 5-star Google Reviews rating.
In addition to our bespoke creations, we've have a new line of 'manufactured' garden rooms, proudly made in Britain to the highest standards. The advantage? Faster installation, reduced costs, minimised on-site mess, and fewer materials required. Our lightweight steel floors provide robust durability and vermin resistance, while EPDM rubber roofs ensure enduring, low-maintenance protection.
What sets our garden rooms apart?
1. Rot-Resistant Steel Frame Floors: Unlike timber, our steel frame floors stand the test of time.
2. Superior Insulation: Enjoy the benefits of 50mm insulation in walls, floors, and ceilings, surpassing Rockwool in performance.
3. Seamless Design: We employ secret fixings for a refined, seamless appearance that outshines visible face fixings.
4. Standard Plaster Finish: All our rooms come with a pristine plaster finish.
5. Recessed Electrics: Say goodbye to surface-mounted installations with our standard recessed electrics.
6. Noise-Free EPDM Rubber Roofs: Eliminate the potential noise associated with corrugated metal sheets with our EPDM rubber roofs.
Our pricing falls within the mid-range, reflecting our commitment to high-quality materials and the enduring durability of our garden rooms. To underscore our confidence in our products, we offer an impressive 10-year guarantee. Our pricing includes essential components such as the base, electrical connection to your home, plaster finish, and a decorator's prime coat of paint.
**Introducing Our Free Design Tool**
Creating your dream garden room is easier than ever with our free design tool. Design your ideal space online, choosing the size, window options, door styles, and the colour and finish of your garden room. Witness your vision come to life before it's even built! Our configurator helps you design your space while keeping your budget in check.
Important Considerations
- The Site: Where will your garden room be situated? What is the ground like? Let us survey the site and determine the requirements.
- Planning Permission: Our garden rooms are designed to comply with planning permission requirements, standing at no more than 2.5m from the ground to the eaves' underside. For garden rooms exceeding 30m2, building regulations apply. Our designers are here to guide you through the process.
Why Choose My Retreat Garden Rooms?
1. Unmatched Variety: All of our garden rooms are fully customisable, offering you an extensive selection of premium garden room designs.
2. Exceptional Customer Service: Our dedication to customer satisfaction is reflected in our stellar 5/5 Google rating.
3. British Craftsmanship: All our garden rooms are proudly made in the UK using top-tier materials.
4. Peace of Mind: Enjoy a 10-year warranty on our fully insulated, manufactured range of
garden rooms, complete with base and electrical connection to your home.
5. Seamless Finish: Our rooms boast plaster finishes, recessed lights, and sockets.
6. Transparent Pricing: Our upfront, inclusive pricing policy ensures no unexpected surprises in your quotations.
7. Free Online Design Tool: Use our tool to design your dream garden room and see the price as you go.
8. Comprehensive Services:From design to installation, we've got you covered.
9. Visit Our Showroom: Explore our showroom office in Surrey.
10. **FREE Site Visit:** We offer complimentary site visits to address your unique needs.
Discover the perfect garden room with My Retreat Garden Rooms – where expertise, quality, and customer satisfaction converge.
Garden Room Pictures
Latest garden room pictures
Latest posts
The latest posts from our garden room blog