Ashton Garden Room
With a compact and modern design, the Ashton is year-round space, perfect as a home office, music studio, gymnasium, workshop or art studio that will look good in the smallest of spaces.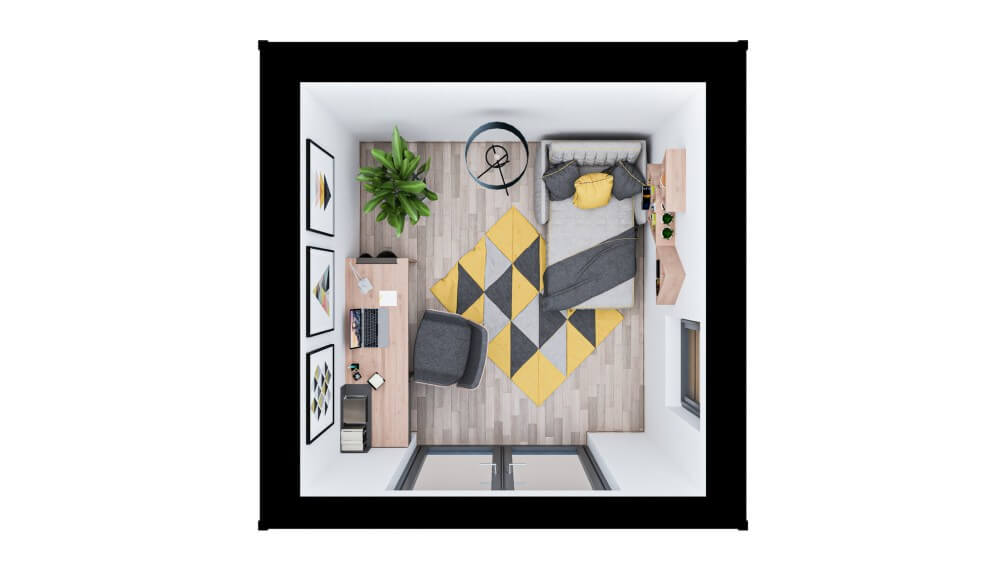 Perfect for smaller gardens...
The Ashton will fit neatly into any garden, no matter how small. Large French doors at the front allow plenty of light and the neat side window adds extra light making it feel more spacious. The Ashton is a great choice for a home office, gym, teenage den, cinema or playroom. As with all our buildings, it is finished in cedar with anthracite grey doors and windows and up/downlights giving the Ashton a modern and contemporary feel. The Ashton differs from the Clifton as it does not have a canopy.
All our garden rooms are bespoke, constructed out of timber frames which makes them not only very strong, but the flexibility to have any width or depth you want. All come with a concrete base as standard to ensure there is no bounce in the floor which is key if you have kids or plan to use it as a gym. The A+ rated Celotex insulation keeps the room warm and comfortable all year round. It is the perfect space for just about anything you can dream of; from a garden office, studio, pool/games room, garden bar/party room, cinema room, gym to a teenage hangout space.
There are so many choices when it comes to customising your garden room, however for ease, the Ashton comes with anthracite grey French doors, 1m x 1m windows, electrical connection to your house, lighting, heating, electrics, a choice of flooring, contemporary skirting boards, plaster finished with a decorators mist coat, guttering, water butt, externals lights and a deck step all as standard. Cedar cladding is the most popular choice and looks fabulous against the anthracite grey doors and windows, however, you may choose treated timber, larch, shadow-gap cedar or Cedral which is zero maintenance, resistant to rot and comes in a range of colours.
Almost any part of the garden room can be customised, from the door style to the size of windows, or combine sliding or French doors with a full-height window on one corner to create a corner of the glass. We are here to help you create your perfect Retreat for whatever style you have in mind.
Prices start from £22,500 inc VAT, delivery and installation. Normally we would be able to publish the prices below, however, due to the fluctuating material costs at present, we are unable to do so. Please give us a call or send us an email to get your quote.
Sizing
All prices include VAT, delivery, installation and foundations
| Width (Metres) | Depth (Metres) | Cost (£) |
| --- | --- | --- |
| 3 | 3 | POA |
| 3.5 | 3 | POA |
| 4 | 3 | POA |
| 5 | 3 | POA |
| 5 | 3.5 | POA |
| 4 | 4 | POA |
| 6 | 3 | POA |
| 6 | 3.5 | POA |
Concrete base
Timber frame construction with A+ rated Celotex insulation
UPVC French doors/sliding doors (anthracite grey)
1m x 1m window (anthracite grey)
Cedar cladding (other cladding types available)
EPDM rubber roof (15-year guarantee)
Electrical connection to your house (up to 20 linear metres)
Plaster finish and painted (decorators mist coat)
4-6 x Internal chrome spotlights (dependant on size)
4 x Double sockets
1 x Chrome light switch
4 x External canopy spotlights
2 x Chrome LED external up and down lights
1 x 2 kW heater with timer thermostat
Laminate flooring (choice of four colours) and contemporary skirting boards
Black Guttering and Water Butt
Other garden room styles
Contemporary and striking, the Westbury has large sliding or bifold doors and wonderful full-height windows that flood the building with natural light.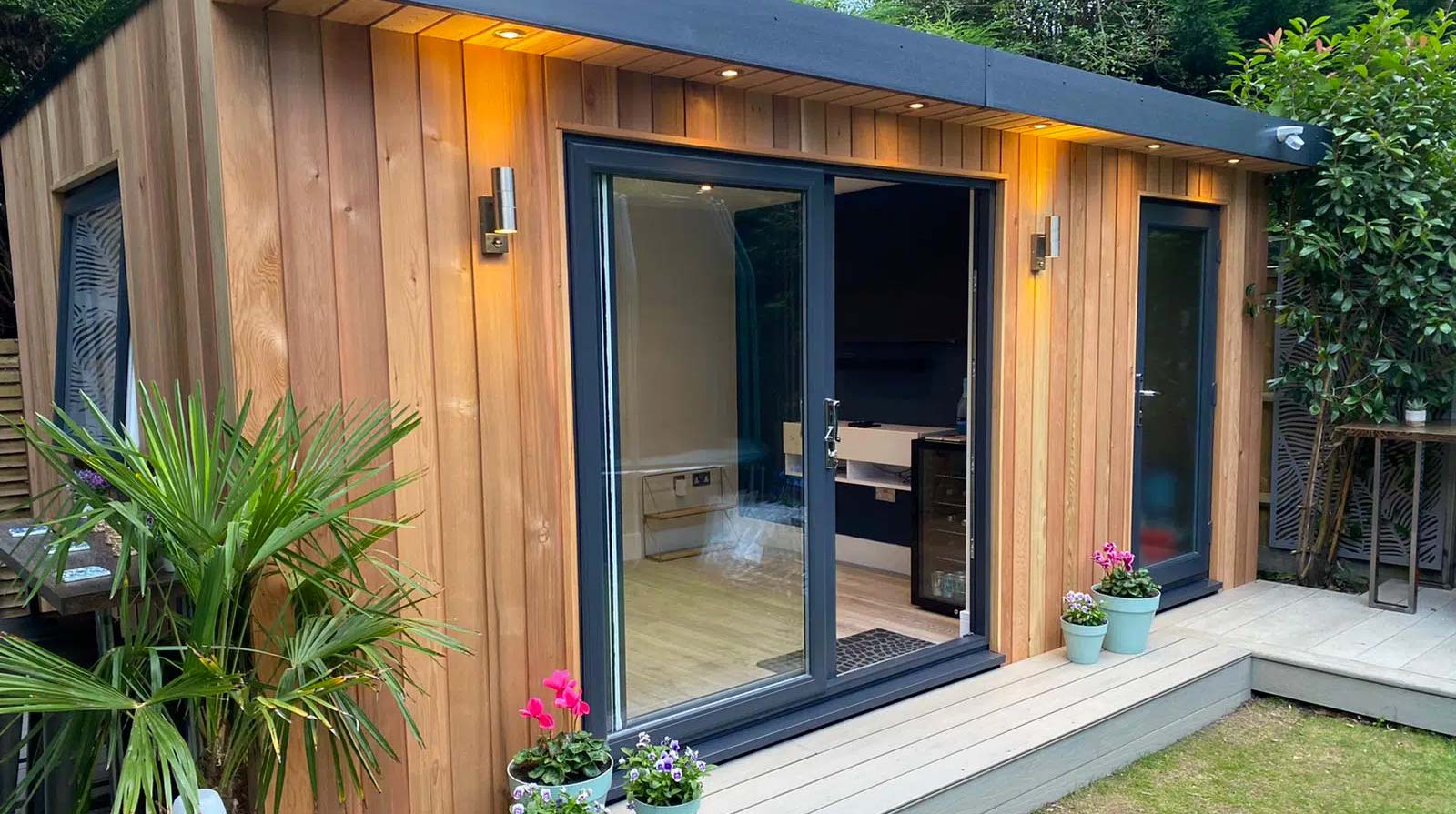 The contemporary design with a stylish canopy and spotlights, makes the Clifton the most popular style and comes in a variety of sizes. It will make an excellent focal point…