Design your own garden room
Our fabulous and easy-to-use online configurator lets you design your own bespoke garden room in minutes. It's simple and easy to use and displays the price as you go along.
We have a range of cladding options to choose from that will help your garden room make a statement or sit naturally in its surroundings. There is a wide variety of aluminium and UPVC doors and windows that you can place on any side of your garden room and if you think it would look better somewhere else, simply click the button to relocate it or delete it and choose a different style. The configurator even allows you to add canopies for hot tubs, seating areas or outdoor kitchens. But don't worry, if you need some help or or don't have the time, simply call us on 020 3818 5911 or email us at Sales@MyRetreatGardenRooms.co.uk and one of the team will be happy to help.
The information that you provide is simply to send you a copy of your design and allow us to assist you with your enquiry, we are not the type of company that will bombard you with marketing emails.
Simple step-by-step guide to designing your perfect Retreat!
1. Enter your name, email and phone number. This is so that we can send you a PDF of your design with images, specification and cost. We will only call or email about your enquiry and your details will not be used for marketing purposes
2. Select the size of your garden room by using the +/- buttons on both sides
3. Click on the button (big yellow square) to confirm the size.
Helpful tips:
a) Don't forget to confirm the size, if you don't, it won't work. Don't worry if you change your mind on the size, simply click on the 'sizes' button at the bottom of the screen, change the size and then click confirm
b) If you would like to see a quick demo of the configurator, have a quick look at the video to the right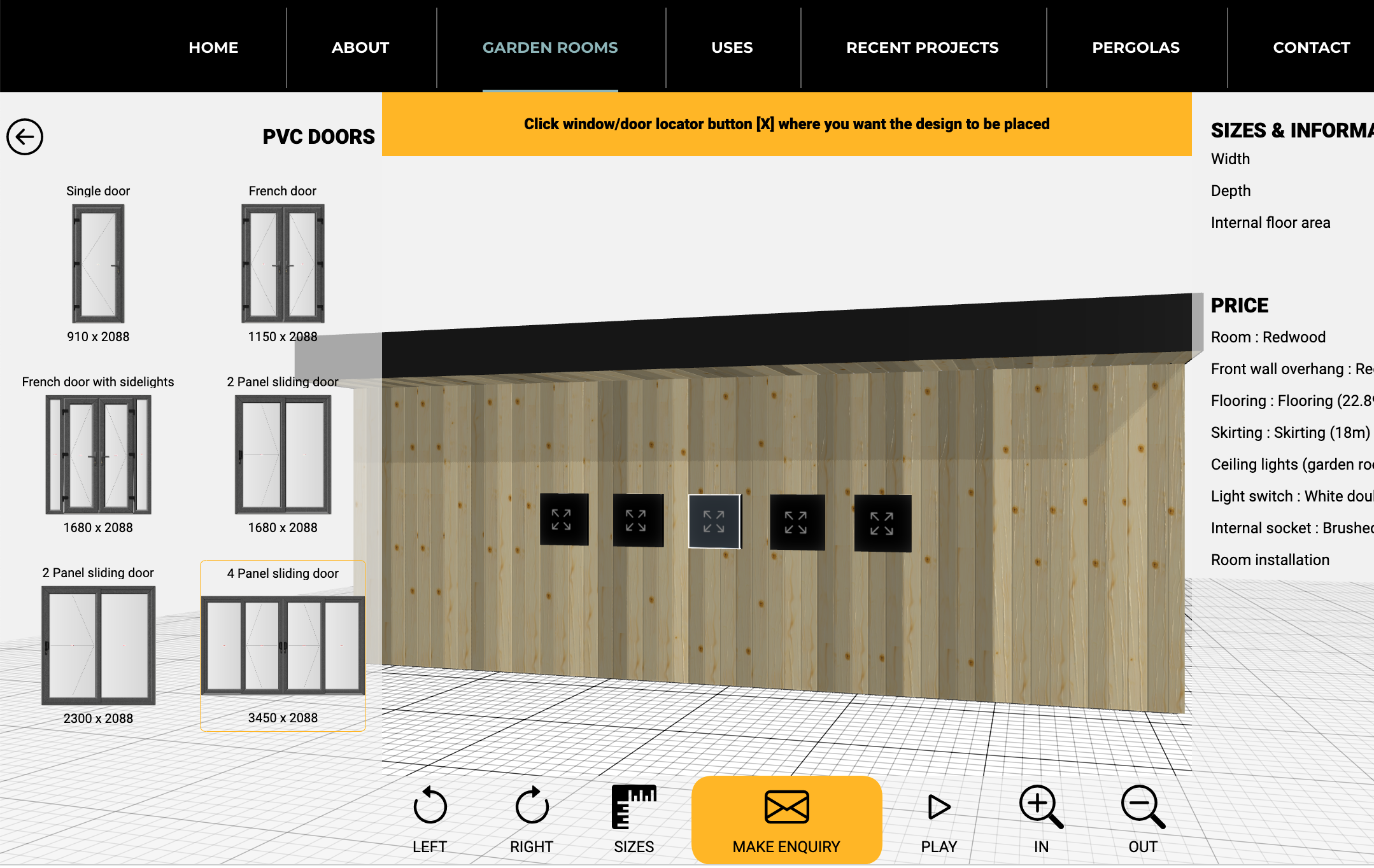 From here on, all of your choices are available in the drop-down menus on the left hand side of the screen.
4. Choose your cladding from the drop-down menu on the left hand side
5. Choose from a huge range of either aluminium or UPVC windows and doors. Select the one you want, and click the arrow on the building of where you would like it positioned. Don't worry, you
can always move it or delete it if you change your mind
6. Select a roof overhang if you want one. You can add spotlights later
7. Add a composite decking step. You can select a single, double or none at all
8. Flooring - choose from a range of laminate flooring options
9. Add skirting boards. Choose between white MDF or oak
10. Light Switch – choose a light switch and click on the wall you would like it located on. If you need another, select another one, and click the wall you want it on (ignore the fact it is telling you have forgotten lights, you can do this further down the list
11. Internal Sockets – select the socket you want and click on the wall you would like it on, then add as many more as you want.
12. Panel Heater – choose a heater and the wall you want it on. Alternatively…
13. Underfloor Heating, choose this option and then add a…
14. Heating Controller to control the underfloor heating
15. External Lights – select the colour and place them on either side of the door for example
16. External Ceiling Heater – select if you would like an outside heater, perfect if you have a seating area under a canopy
17. External Socket – perfect for lawnmowers etc
18. Ceiling Lights – click to add the internal spotlights
19. Ceiling Lights (front) – this option will be available if you have added a roof overhang. These are the spotlights that will add ambient lighting in the evening
Finally...
20. Press play to see the windows and doors open
21. Click - 'Make and Enquiry' and you will be sent a copy of your design with the specification.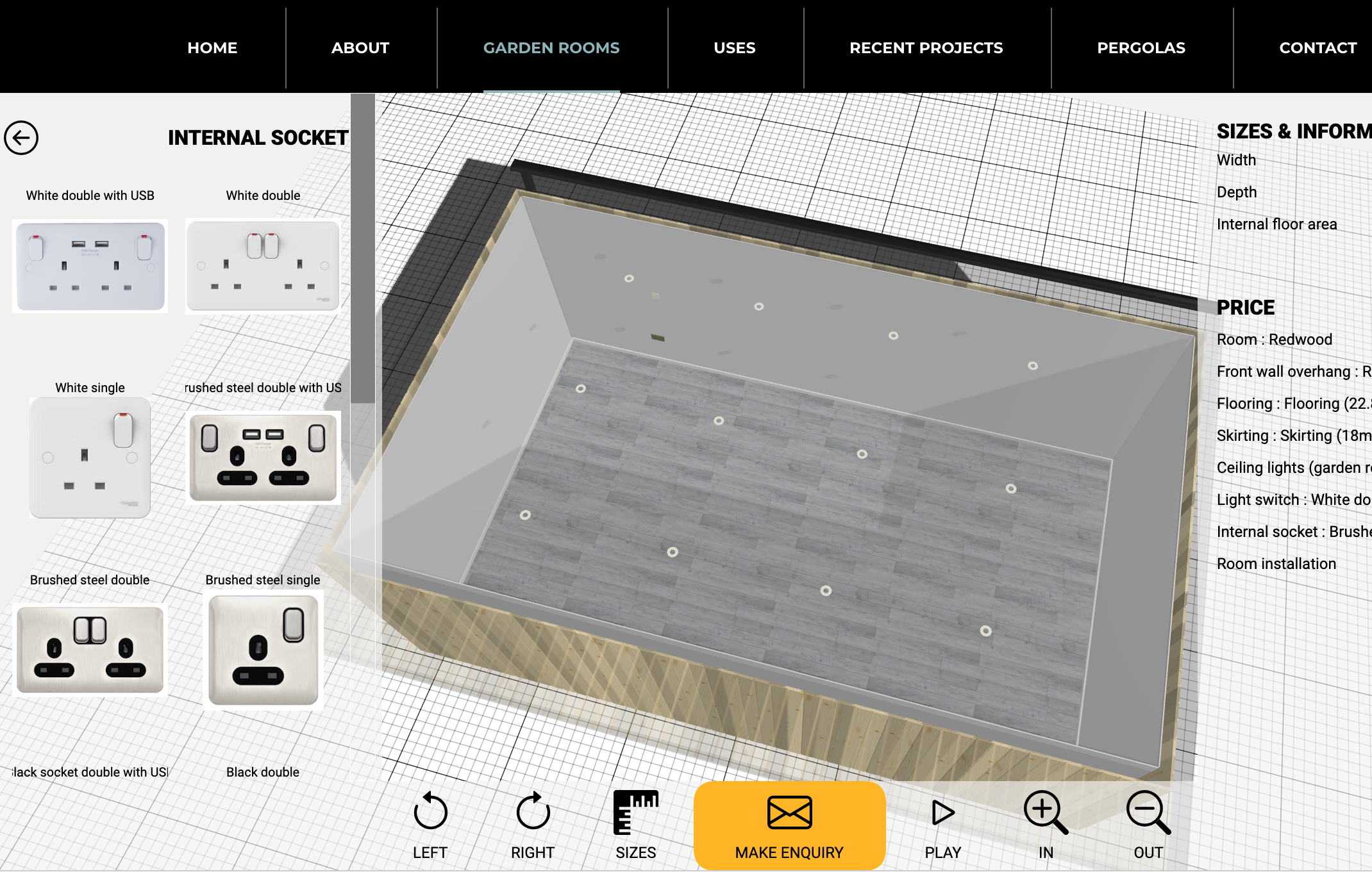 Tip:
1. Light switches should be located just inside the door on the nearest wall
2. You may want to add a single socket for the panel heater if you are having one
Not found what you are looking for?
Speak to us about our custom range
We built our reputation building some of the finest custom-made garden rooms in the South East. We can design, make and install any size, shape and design of garden room. Custom garden rooms are made using the finest materials with upgraded timbers and insulation to building control standard. They also come with a Project Manager who oversees the whole build and often multiple projects such as swim-spa and outdoor kitchen installations so that you only have one point of contact, instead of managing multiple trades yourself. They will update you at the end of every day, instroduce you to the team and be on hand to answer any questions you may have.
To to book a free design consultation or chat to us about your dream garden room call us on 020 3818 5911, email sales@myretreatgardenrooms.co.uk or pop into our showroom in Addlestone, opposite St Georges School.